Do you want to learn how to crochet a Bunny Kate Amigurumi? Here you will learn how to do it step by step.
Hi there, here at Crochet fashion you will find great tutorials, in the last tutorial we teach the Life-size Baby Dragon Pattern  (see more) and if you like the first tutorial you will love this perfect and cute Bunny.
Stylish and full of personality and charm, Kate arrived breaking hearts. She wears a modern Dress, pearl necklace and a beautiful flower tiara.
Simple, fast, easy and charming! everything you wanted! Make it in several colors and guarantee the joke!
MATERIAL
 Yarn in colors: White / Turquoise Blue/ Coral Pink/ Lilac/ Light Yellow/ Salmon Pink/
Fine black thread for the eyebrow
 Crochet hook 2.50 mm
Crochet hook 1.50 mm
Fine tapestry needle
Eyes with lock #9mm
Silicone fiber filling
Glue
Scissors
mini pearls
Size: 28 cm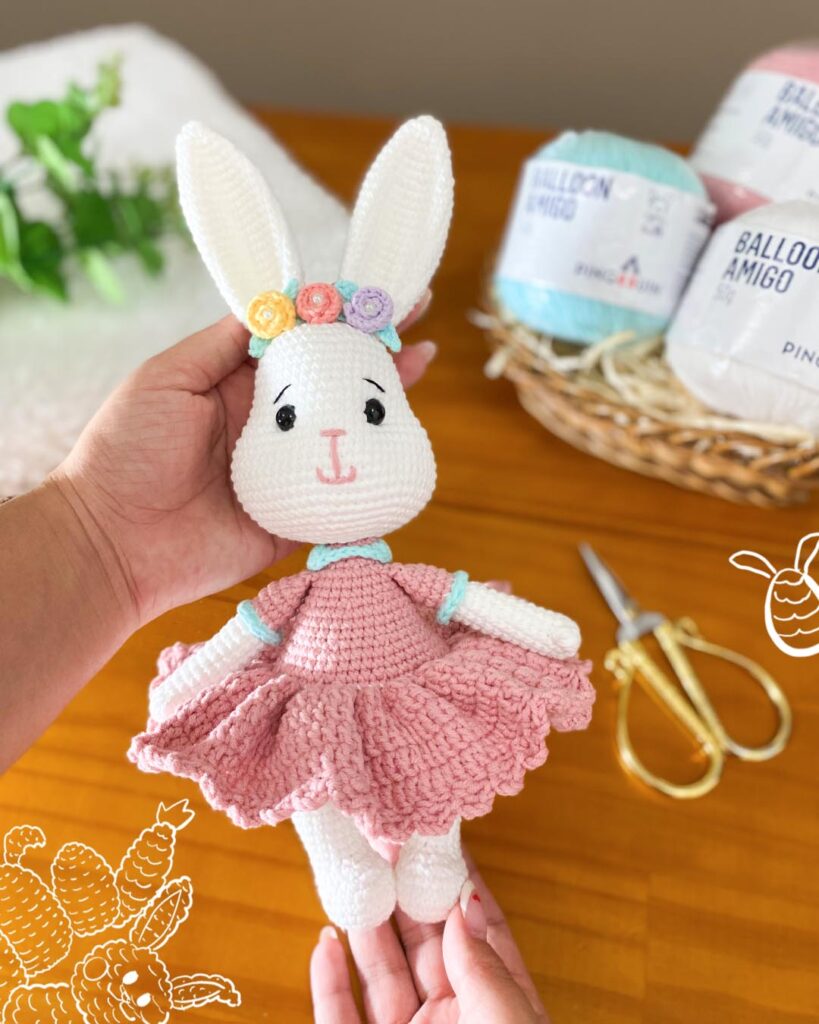 STITCHS USED AND ABBREVIATIONS
MR: magic ring
St: Stitch
Inc: Increase
Dec: Decrease
Sl st: slip stitch
Dc: Double crochet
Hdc: Half Double Crochet
Ch: Chain
BLO: Back Loop Only)
FLO: Front Loop Only
EXECUTION
Head
– With White yarn
1: 6sc on magic ring [6]
2: 6inc [12]
3: (1sc and 1inc) repeat 6x [18]
4: (2sc and 1inc) repeat 6x [24]
5: (3sc and 1inc) repeat 6x [30]
6: (4sc and 1inc) repeat 6x [36]
7: (5sc and 1inc) repeat 6x [42]
8 to 11: (row only sc) 4 row [42]
12: (6sc and 1inc) repeat 6x [48]
13 to 14: (row only sc) 2 row [48]
15: (9sc, 6inc, 18sc, 6inc, 9sc) [60]
16 to 22: (row only sc) 7 row [60]
– Place eyes with safety lock between rows 14 and 15, sedcrated by 10 sts.
23: (8sc and 1dec) repeat 6x [54]
24: (7sc and 1dec) repeat 6x [48]
25: (6sc and 1dec) repeat 6x [42]
– Add the fiber little by little
26: (5sc and 1dec) repeat 6x [36]
27: (4sc and 1dec) repeat 6x [30]
28: (3sc and 1dec) repeat 6x [24]
29: (2sc and 1dec) repeat 6x [18]
30: (1sc and 1dm) repeat 6x [12]
31: (6dec) [6]
– Fast off. Leave enough yarn to finish
– With the thin black thread make the eyebrow
– With the Pink Salmon thread embroider the nose
Do you like the clear instructions? So Download the PDF and Happy Crochet!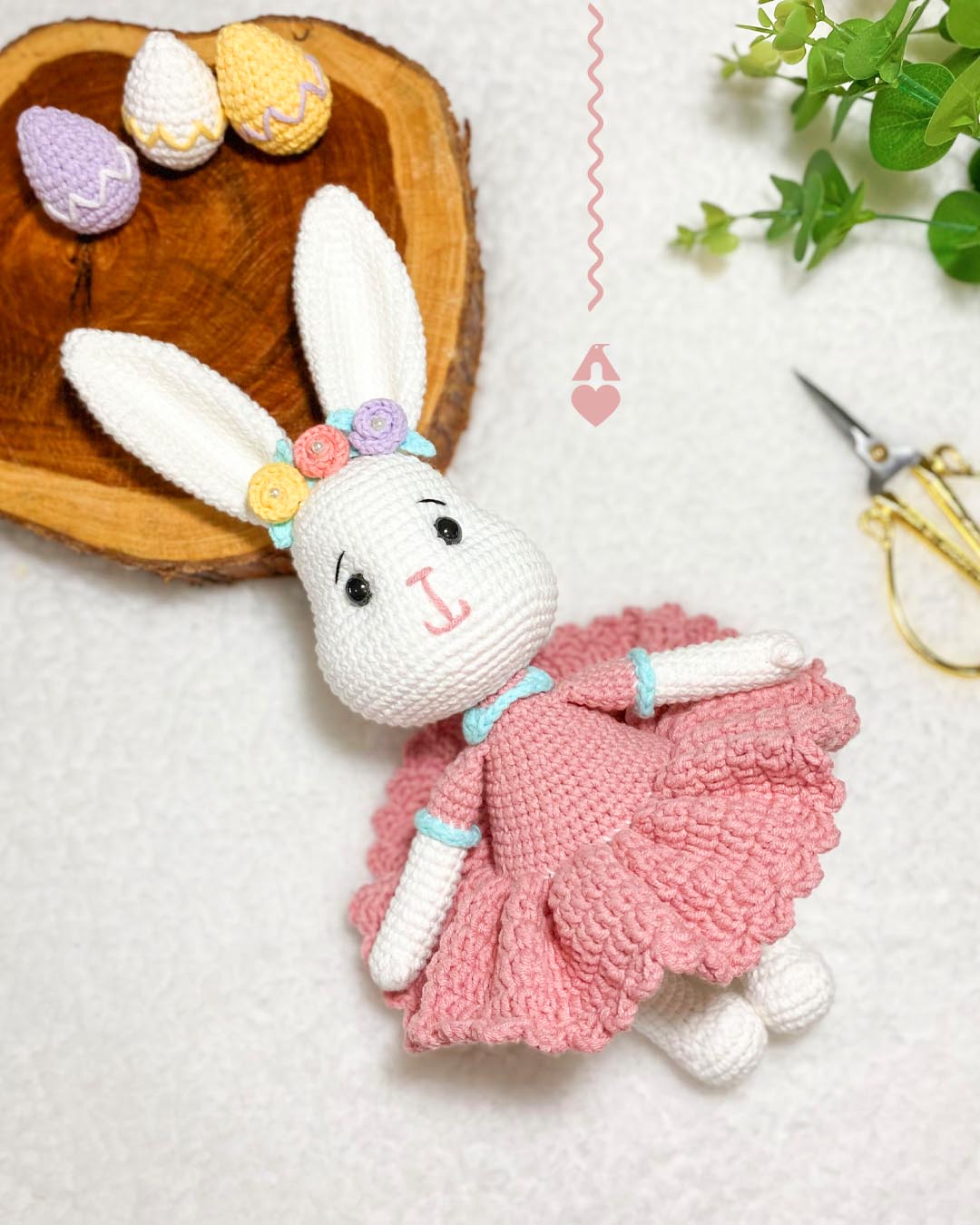 If you enjoyed this article please share and Like our Facebook.
Please tagg me in your photos on Facebook and post you final result on my group It's
SPAM FREE – JOIN THE FACEBOOK GROUP CLICK HERE
Join me and let's create an amazing community, sharing crochet and experiences and tips only.
Enjoy, and Happy Crocheting!!
All rights and photos is from the creator pingouin.
Check out more information on other patterns: