Christmas Centerpiece Pattern
Do you want to learn how to crochet a Christmas Centerpiece Pattern? Here you will learn how to do it step by step.
Crochet is one of the most versatile crafts to decorate the house. You can use it to make rugs, crochet table runner, crochet tablecloth or simply a crochet centerpiece to match the dining room to make the environment even more beautiful.
The advantage of having a crochet centerpiece is that you can customize it with the ideal shape, colors and sizes for your table. So, if you have a clean and elegant room, you can make an easy crochet centerpiece in the same style.
For you to know everything about the super easy step-by-step crochet Christmas Centerpiece.
The first step is to choose the crochet table centerpiece graphic according to the shape and size of your table. In the case of square and round tables, you can choose either a square crochet centerpiece or a round crochet centerpiece.
SIZE: Diameter – 8 inches ( 20 cm), Thread – 20g/200m, Steel crochet hook – 0.8 mm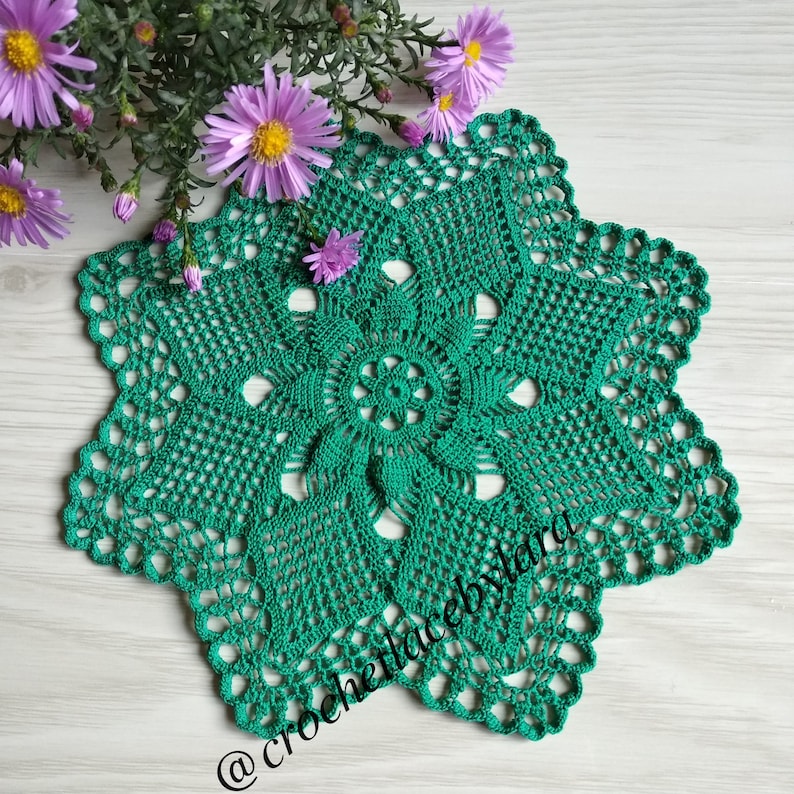 If you want to add color to your table, decorate a crochet centerpiece with flowers. However, select the colors of the flowers that highlight the decoration of the environment in a unique way.
Also, if you place a vase on top of the crochet centerpiece with flowers, you need to be careful that the flowers don't make the decor too heavy or that an ornament "steals" the attention of others.
If you enjoyed this article please share and Like our Facebook.
Please tagg me in your photos on Facebook and post you final result on my group It's
SPAM FREE – JOIN THE FACEBOOK GROUP CLICK HERE
Join me and let's create an amazing community, sharing crochet and experiences and tips only.
Enjoy, and Happy Crocheting!!
Thanks to Natena Konovalova for the article inspiration and featured image.
Check out more information on other patterns: