Do you want to learn how to crochet a Honeycomb Stitch? Here you will learn how to do it step by step.
Hi there, here at Crochet fashion you will find great tutorials, in the last tutorial we teach the Honeycomb Stitch Blanket pattern (see more) and if you like the first tutorial you will love this perfect Honeycomb Stitch, it's a fast and easy tutorial.
The honeycomb stitch is widely used in rugs, pillows, blankets, bedspreads and even crochet blouses, its volume and depth give all the appeal to the pieces This pattern mostly uses half double crochets and a good dose of front post stitches to create a beautiful honeycomb texture.
The basic unit of honeycomb pattern is a hexagon – a shape that has six sides. Hexagons fit together perfectly, connecting with each other to make bigger and bigger planes.
Normally, the honeycomb stitch is immediately associated with Tunisian crochet. However, this Honeycomb stitch is entirely made in classic crochet.
You can use the crochet honeycomb stitch pattern that you work in rows, but what you do with it is your choice. We suggest that you try making a honeycomb pattern with individual crochet hexagons and joining them together. It is a great option for those who prefer to work with smaller pieces and combine them at the end.
This is a stitch I created by Raffaella Tasson, she tried to get a nice hexagon/honeycomb texture on one side of the fabric while keeping all the smoothness of the normal high stitches on the other side.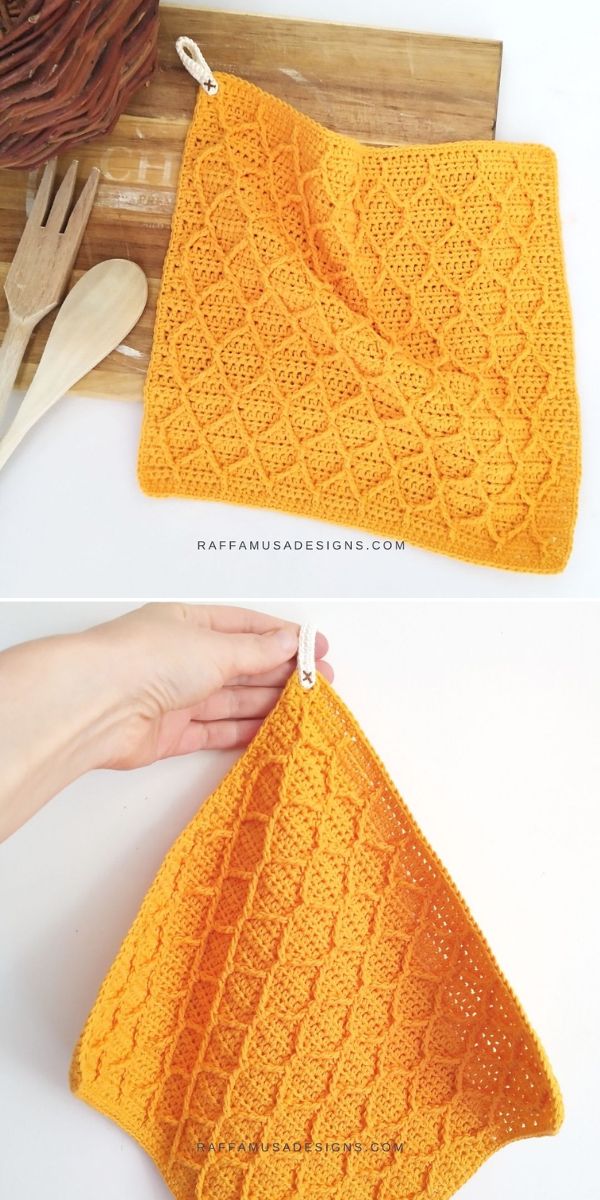 This means that on the back, you have a solid half double crochet fabric. Always convenient in a crochet dish towel, wouldn't you agree?
We're using U.K. and US crochet terms in this tutorial and materials used for this project are:
3.5 mm (I/9 US 5 UK ) crochet hook
2.5 mm (C/2 US 5 UK ) crochet hook
Tapestry Needle
Cotton Yarn (Sport, 2, Fine)
GAUGE:  20.5 hdc for 14.5 rows in 4″ (10 cm
SPECIAL STITCHES
Front Post Double Tr Two Together (FPdtr2tog)
Front Post Double Tr and Hdc Two Together (FPdtr/hdc2tog)
Hdc and Front Post Double Tr Two Together (Hdc/FPdtr2tog)
For all 3 stichs, see the Special Stitch article.
⬇⬇⬇⬇
Or watch the video tutorial below:
Please tagg me in your photos on Facebook and post you final result on my group It's
Join me and let's create an amazing community, sharing crochet and experiences and tips only.
Happy Crocheting!!
Check out more information on other patterns: