Crochet Baby Girls Rainbow Dress
Do you want to learn how to crochet a Crochet Baby Girl Rainbow Dress? Here you will learn how to do it step by step.
Hi there, here at Crochet fashion you will find great tutorials, in the last tutorial we teach the Russian Summer Cloche Hats (see more) and if you like the first tutorial you will love this perfect and cute Crochet Baby Girl Rainbow Dress.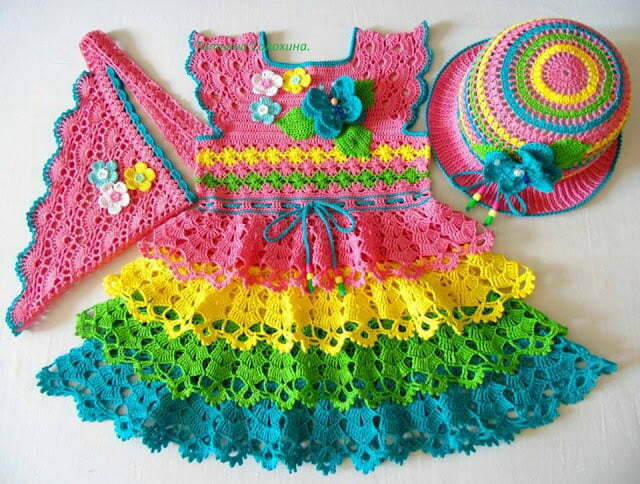 If you are a true crochet lover, you should definitely try to make it. It's one thing to buy a cute little dress for that special little lady in your life, but to make it yourself by hand means more than any price tag ever could. If you want to learn how to Crochet Baby Girls Rainbow Dress, you can watch and follow the instructions in the video. The only thing is that she speaks non-English language, but hopefully you can get the ideas by just looking at how she is crocheting.
We have 2 option for you, a Paid version it includes instructions to make all sizes from 6 months to 8 years. NO DIAGRAMS OR GRAPHS ARE INCLUDED!!! At the end of the pattern you will find a stitch by stitch guide to help you through the first row, which can be challenging to understand.
If you want a FREE OPTION, we have the graph below and a video tutorial, is in spanish, but you can use the translation function.
Create this sweet, delicate feminine dress with unique sleeves, dropped waist bodice with flower detail. 3-4 layers of ruffles add princess twirl!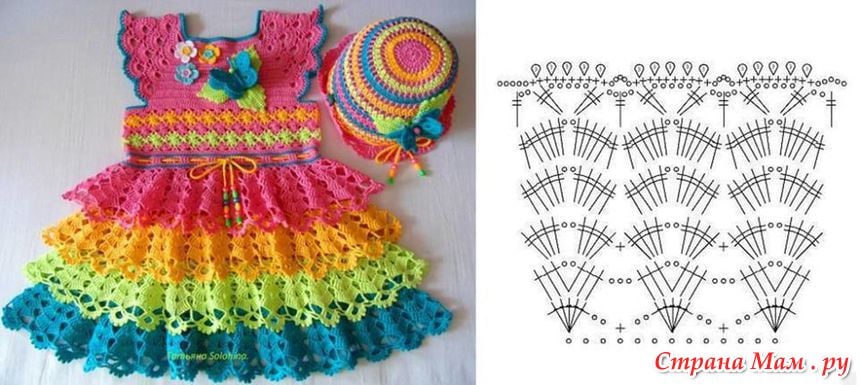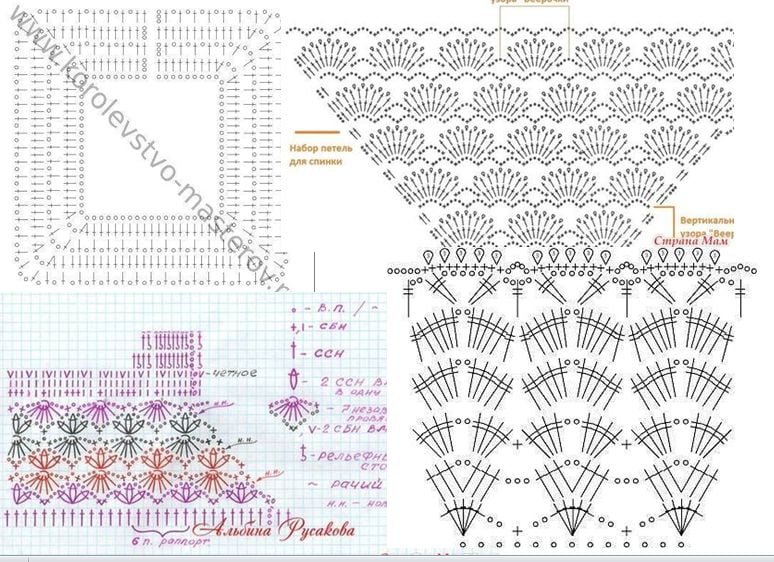 Among the many patterns that exist of crochet dress, I leave one for you to practice and do wonders of handmade dresses. Taking advantage of that is small, easier, fun and with gorgeous result even more in the spring for being colorful and cheerful.
A english option is this video below, With all variations of dress patterns, you can earn good money by selling and increasing income by working from home with something you enjoy doing, very good is not it.
If you enjoyed this article please share and Like our Facebook.
Please tagg me in your photos on Facebook and post you final result on my group It's
Join me and let's create an amazing community, sharing crochet and experiences and tips only.
Enjoy, and Happy Crocheting!!
Check out more information on other patterns: