Do you want to learn how to crochet a Beginner Boots Slippers? Here you will learn how to do it step by step.
Hi there, here at Crochet fashion you will find great tutorials, and I have a perfect Beginner Boots Slippers for you today, it's a fast and easy tutorial, that was created by Sirin's Crochet.
You may be a beginner and want to try some crochet projects. You can even try the Slippers and make it a gift for your family members. It's so simple and a cozy. You can use in disney halloween party, at home, in anywhere.
With winter coming in full swing, nothing better and more comforting than warming up your feet with a good thick sock and a nice boot. And if you want to innovate in your look, invest in a crochet boot, which in addition to being charming will ensure that your little feet are very warm, even more so if you make a model with wool.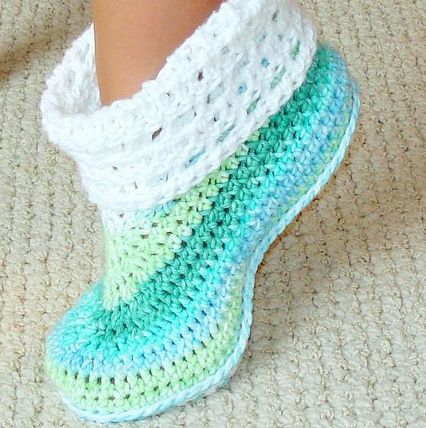 To make the boot in the image you will need:
crochet hook
a shoe sole the size of your foot
thick thread or wool (with the color of your choice).
Step 2 – Punch holes around the entire sole with a hole punch or the tip of a pair of scissors. Then start the work by crocheting stitches all around the sole.
Step 3 – make three rows of single crochet around the entire sole (following the buttonhole). And after the third row you should start to decrease the stitches on the instep. To do this, take two points together on the front and measure on your foot to see if you are making the shape of the top of your foot correctly.
[activecampaign form=15 css=1]
Step 4 – When you reach ankle height you measure again on your foot and if you are in the right shape, go up the top of the boot. And in the pipe you can use the same stitch (low stitch) or with the pipe with a high stitch or you can still make the pipe with the stitch you want. At the end, finish the line. And if you want you can still turn the pipe and sew three buttons (as in the picture) And your crochet boot is ready! From this base you can make the boot model you want.
But if you prefer a video tutorial I have the perfect one for you. In the tutorial will be making a size medium which is a like a ladies 37,38 or 39. We're using U.S. crochet terms in this tutorial and materials used for this project are:
Lions Brand Yarn (Wool- Ease Thick & Quick) size 6

Yarn packaging it recommends a Crochet Hook size 9mm, but we want to make them a little tight so we'll use 6 mm Crochet Hook.

Scissor
Tapestry Needle
Tape measure
We suggest that you use an row counter.
So far have you liked the clear instructions? Watch the full tutorial bellow
Please tagg me in your photos on Facebook and post you final result on my group It's
Join me and let's create an amazing community, sharing crochet and experiences and tips only.
Happy Crocheting!!
Check out more information on other patterns: