Do you want to learn how to crochet a Zoo Blanket? Here you will learn how to do it step by step.
Hi there, here at Crochet fashion you will find great tutorials, in the last tutorial we teach the Crochet Tutu Dress (see more) and if you like the first tutorial you will love this perfect and cute Zoo Blanket.
Today a have 2 options for you a paid version and a FREE version.  
Perfect for keeping your kids cosy, the Zookeeper's Blanket is an adorable baby blanket featuring an entire zoo of 30 different animals! This project is perfect for using up scrap yarn, and since each square is different, you'll never be bored watching each sweet little animal take shape.
Skill Level: Intermediate
Designer: Justine Walley
The pattern is paid, and is available on love crafts, please click in the link below to access the pattern
⬇⬇⬇⬇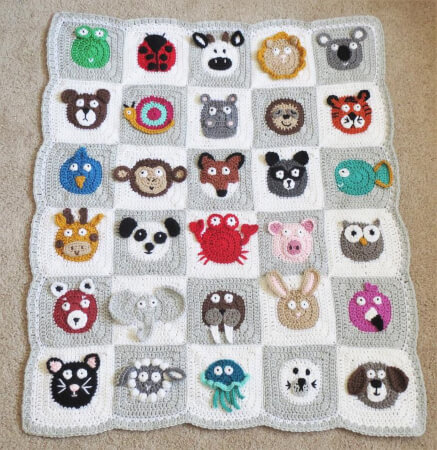 Some of you have been asking us about the values ​​for selling handmade items made of crochet yarn, and as I have mentioned in previous posts, it is very complex for us from the Crochet Fashion blog to measure the resale value of your pieces, by where you go market, per line that you are going to use, so the least we can help, and we suggest that you calculate the cost of materials spent to make the part, and add thirty percent for the time and labor involved. But remembering that, it's just a suggestion, it's up to you, how, where and when you should sell your pieces.
If you enjoyed this article please share and Like our Facebook.
Please tagg me in your photos on Facebook and post you final result on my group It's
SPAM FREE – JOIN THE FACEBOOK GROUP CLICK HERE
Join me and let's create an amazing community, sharing crochet and experiences and tips only.
Enjoy, and Happy Crocheting!!
Check out more information on other patterns: