Do you want to learn how to crochet a Larksfoot Stitch Blanket? Here you will learn how to do it step by step.
Hi there, here at Crochet fashion you will find great tutorials, in the last tutorial we teach the Larksfoot Stitch pattern (see more) and if you like the first tutorial you will love this  perfect Larksfoot Stitch Blanket, it's a fast and easy tutorial, designed by Hanjan Crochet.
This blanket really is a classic that anyone can tackle. All you need is a bunch of your favourite coloured yarns – as many or a few as you like – and you're away. Using a simple repeat this is the perfect beginner project to practise your technique and tension.
The Larksfoot Stitch gives the blanket the prettiest drape without being too loose and is so quick to make!
We're using U.K. and US crochet terms in this tutorial and materials used for this project are:
400g of double-knitted yarn, about 1 ball for 6 different colors
A 5mm/H crochet hook
Needle
scissors
Finished Size: One size: 85cm by 100 cm but easy to adapt to any size you like.
Tension: 11st and 7 rows = 10cm by 10cm
Pattern Notes:
The ch3 at the beginning of a row count as a treble.
The ch4 at the beginning of a row counts as a ch and a treble.
I changed colour after every two rows in a random combination but you can do whatever you like with your blanket to make it your own.
So far have you liked the clear instructions? Download the PDF with the free Larksfoot Stitch Blanket from Ravelry.
⬇⬇⬇⬇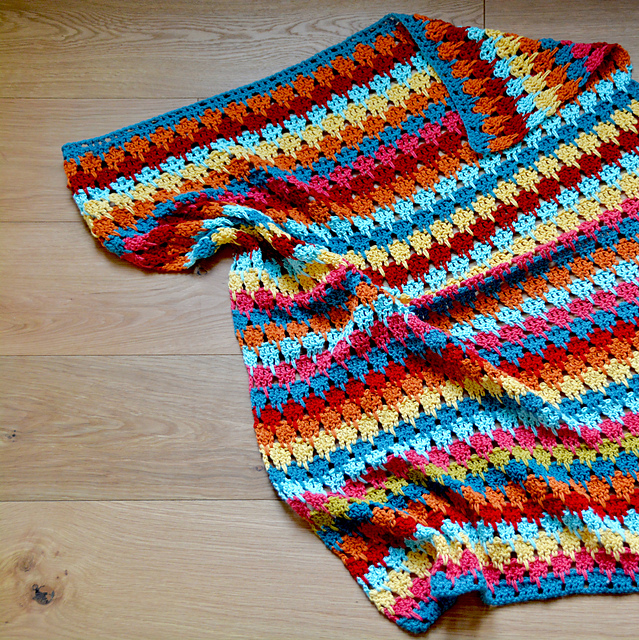 If you enjoy crocheting, you can sell your handmade creations through online craft fairs. While this may seem daunting, it is worth trying to get a certificate in a related field.
There are many opportunities for you to sell your handmade items. You can participate in a craft fair or sell it online to earn money. The only downside is that you will need to invest in a booth to sell your products.
I would like to mention that the image credits and content of the pattern is intended for the official website of the same, which you can check more information about it here.
Please tagg me in your photos on Facebook and post you final result on my group It's
Join me and let's create an amazing community, sharing crochet and experiences and tips only.
Happy Crocheting!!
Check out more information on other patterns: