Hexi Blanket with Honewcomb Stitch
Do you want to learn how to crochet a Hexi Blanket with Honeycomb Stitch? Here you will learn how to do it step by step.
Hi there, here at Crochet fashion you will find great tutorials, in the last tutorial we teach the Honeycomb Stitch pattern (see more) and if you like the first tutorial you will love this perfect Hexi Blanket.
If you are creative you can create a beautiful pattern of Honeycomb Baby Blanket. To this blanket, like the image below, you will use the Hexi Blanket  pattern to create the blanket base and customize it with bee appliqués (Free Bee pattern)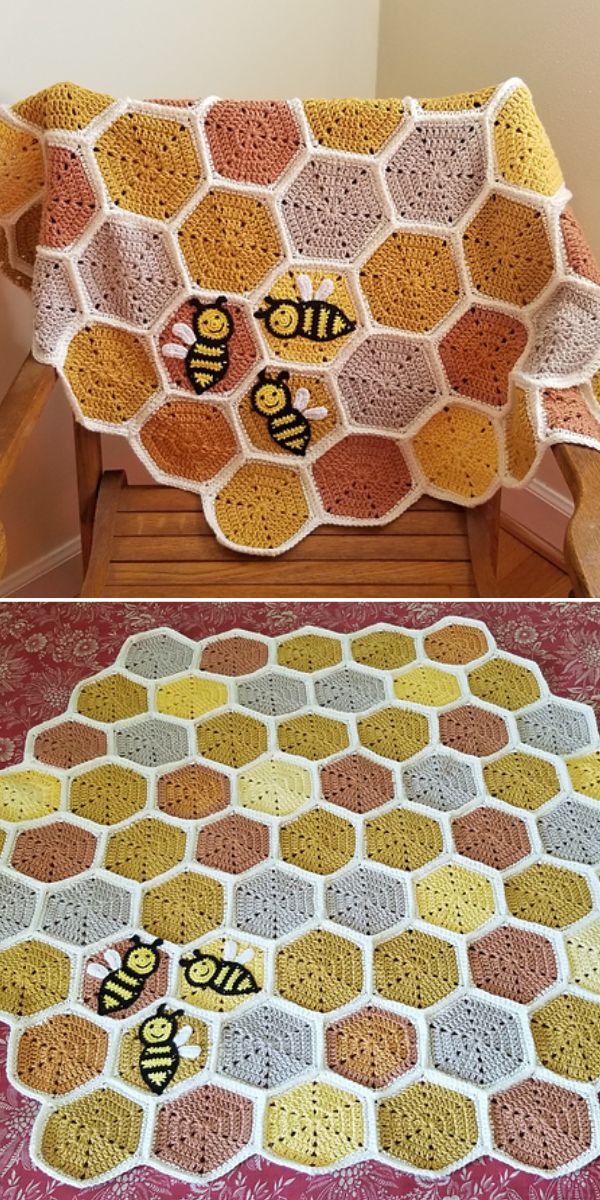 Crochet honeycomb patterns vary a lot in difficulty and looks, so it's important to choose one you'll like working on and looking at.
When you practice or work with the honeycomb stitch, pay attention to the details and finishes, it will make all the difference.
The more delicate your work with honeycomb crochet becomes, the more professional your pieces will look and certainly more beautiful.
If you crochet to sell, this video will be very good for you, the tips are very good and even if you already know how to do the honeycomb stitch it can be very important for you to improve your work even more.
You can use crochet honeycomb stitch pattern that you work in rows, but what you make with it is your choice. Below you'll see dishcloths, blankets, home decor items… the list goes on!
You can use the crochet honeycomb stitch pattern that you work in rows, but what you do with it is your choice. We suggest that you try making a honeycomb pattern with individual crochet hexagons and joining them together. It is a great option for those who prefer to work with smaller pieces and combine them at the end.
The result is a solid fabric, which is very soft and warm, making this honeycomb stitch perfect for many different kinds of projects, such as:
Blankets and afghan blocks;
Winter accessories. For example, scarves, cowls, hats, and headbands;
Dishcloths and washcloths;
Home decor projects, including wall hangings and bags;
and many others!.
⬇⬇⬇⬇
The image and content credits go to Emily Boduan.
Please tagg me in your photos on Facebook and post you final result on my group It's
Join me and let's create an amazing community, sharing crochet and experiences and tips only.
Happy Crocheting!!
Check out more information on other patterns: