Chevron blanket in 4 diffent ways
Do you want to learn how to crochet a Chevron blanket in 4 diffent ways? Here you will learn how to do it step by step.
The chevron stitch is a type of stitch also known as a zig-zag stitch. You may have already seen it in several pieces out there that use this stitch, it is very common in the crochet world.
There are countless opportunities to use this chevron stitch, you can create beautiful patterns with it. With different color combination variations and yarn types. But our tip is always to choose harmonic colors with each other, and that match your decor. But if the goal is to contrast, then have fun.
In this tutorial you will find 4 Pattern of different types of Chevron to create your favorite  one. Perfect for a baby blanket. Option number 1 is the most common and easy to do.
OPTION 1
In the same way that you can use more elaborate stitches in this crochet style, the simple stitch is still very good. In this case, the whim at the time of crochet keeping, therefore, the symmetrical stitches, makes a lot of difference.
OPTION 2
To give a charm to your productions, bet, first of all, on color combinations. These combinations are what, in fact, will make your piece unique.
OPTION 3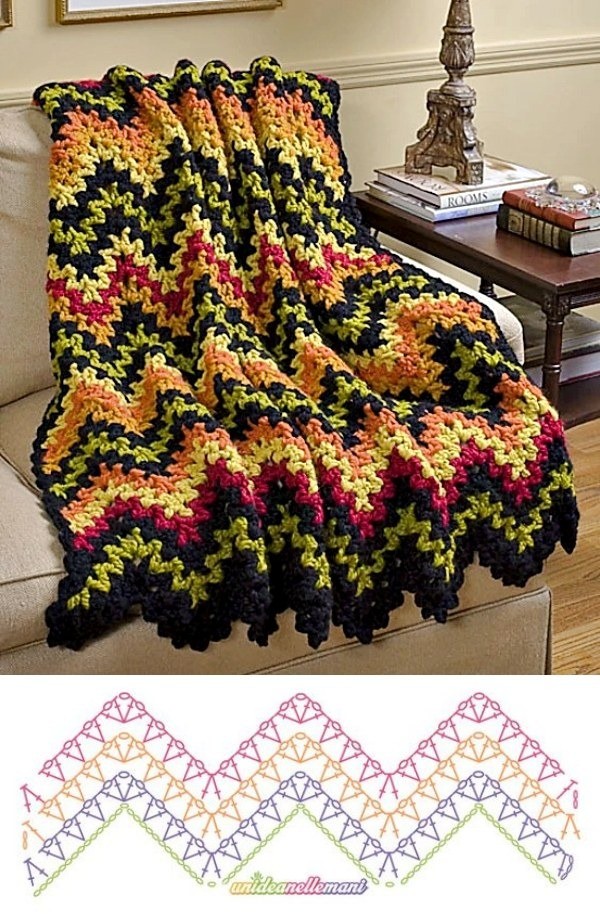 OPTION 4
With a wavy wave in the shape of sea waves, this 4 Chevron option is my favorite. The more delicate your work crochet becomes, the more professional your pieces will look and certainly more beautiful.
(Imagens: etsy, pinterest, ravelry, diyeverywhere, revistaartesanato,  pinterest)
Anyway, the stitches made in the best chevron style are fun, enjoy your crochet and see more pattern options and ideas in the links below.
Please tagg me in your photos on Facebook and post you final result on my group It's
Join me and let's create an amazing community, sharing crochet and experiences and tips only.
Happy Crocheting!!