Do you want to learn how to crochet a Blanket Frida's Flowers? Here you will learn how to do it step by step.
What to talk about this wonderful Crochet Blanket with Frida's Flowers technique? We are in love with the mix of colors, threads and stitches made by Professor Sandra Brum, which turn this piece into an indispensable item for a super colorful and flowery decoration. Her source of inspiration was the work of British artisan Jane Crowfoot.
This trend that arrived with the spring weather, can be used at all times of the year and in various places in the house, using and abusing creativity. After all, as the piece is made with several squares, you can vary both the colors and the size, which can be developed according to your needs just by increasing or decreasing the number of motifs in your recipe.
The coolest thing about this crochet blanket is that you can use the yarn left over from other pieces and abuse your imagination.
Liked? So take advantage of the tip and rock the Blanket Frida's Flowers technique. After all, an artisan in love with flowers will certainly not miss the opportunity to have a crochet blanket like this at home.
Come on? Follow the chart and hands on the needle.
Execution
Make all the pieces according to the graphics and in the quantities indicated, before joining them.
Follow the numbering in the Assembly Scheme and join, on the reverse side, with 1 row of s.b.. Pass the finishing loops.
You need a 3.5mm crochet hook to make a blanket with size 168 X 103 cm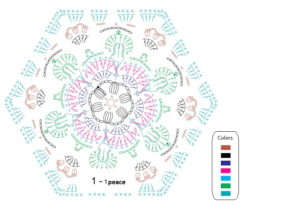 Please tagg me in your photos on Facebook and post you final result on my group It's
Join me and let's create an amazing community, sharing crochet and experiences and tips only.
Happy Crocheting!!
Check out more information on other patterns: