Do you want to learn how to crochet Dawn Doll? Here you will learn how to do it step by step.
Hi there, here at Crochet fashion you will find great tutorials, in the last tutorial we teach the Batman Afghan (see more) and if you like the first tutorial you will love this perfect and cute Dawn Doll.
Whenever possible, it is good to be able to entertain children with simple and colorful toys. An idea in which, your creativity can give space to other creations, and the certainty that it will favor your artisan professional, which is very good.
Skill level: intermediate to advanced.
Material:
That`s the yarn I used:
• Cotton yarn (sport weight yarn – 5 ply) , CATANIA – Schachenmayr / BASIC COTTON – Pro Lana (100% Cotton, 1.78 ounces = 137
yards/50 grams = 125 meters), 14 different colors
• Fiberfill
• 2 black safety eyes, Ø 6 mm
• Cardboard or plastic for the soles
• 2 buttons for the shoes – Ø 1/2″ or 14 mm
• Strong thread resistant (dental floss) for the thread jointing
• Sewing thread to sew on the wig, the buttons, the hat band and the flowers
• optional: glue
• Hook size US 1½ (2.5 mm) and US 2½ (3.0 mm)
• Tapestry needles (usual and extra long)
• Sewing needle
• Stitch marker
• Scissor
• Pins
• optional: wooden spoon/chopstick and clamping scissor to simplify the filling
Let's start? The PAID pattern is available on Etsy. You can download the pdf and keep it with you
⬇⬇⬇⬇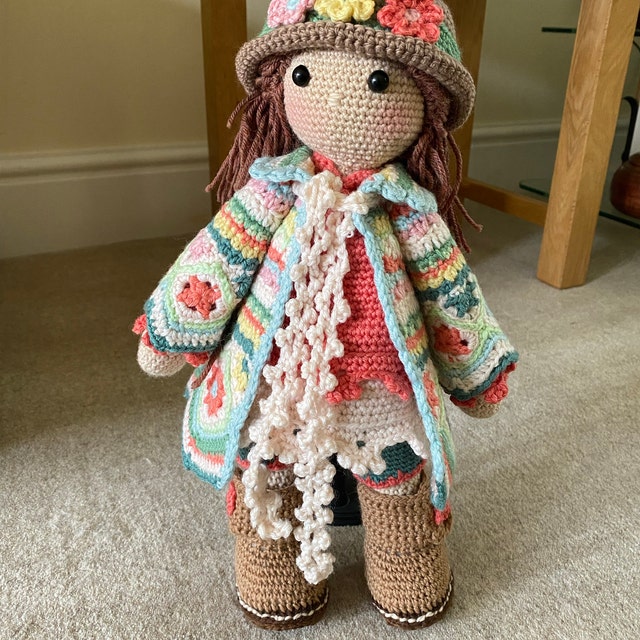 What we recommend every time is to read the step by step at least once before starting for real. You will understand the stitches and pauses during the project are getting rarer and rarer. Another very interesting thing is that it is made in parts. So you don't need to be in a hurry to finish. If you only have one hour to spare, pick a part, hair, legs, body, and do it. You will see that soon you have all the doll ready, just assemble.
Therefore, all the tutorials on my site are credit exclusive to the official standard that I bring, so girls let's leave subject is to undertake, learn and run.
If you enjoyed this article please share and Like our Facebook.
Please tagg me in your photos on Facebook and post you final result on my group It's
Join me and let's create an amazing community, sharing crochet and experiences and tips only.
Enjoy, and Happy Crocheting!!
Check out more information on other patterns: