Do you want to learn how to crochet a Bee Applique? Here you will learn how to do it step by step.
Hi there, here at Crochet fashion you will find great tutorials, and I have a perfect Bee Applique for you today, it's a fast and easy tutorial, that was created by Natalina Craft.
Crochet appliqués are very easy to make items, very versatile and can be applied to various jobs, such as: clothes, hair appliqués, brooches, arrangements, table runners, rugs, key chains, pillows and much more!
SIZE :
5" / 12.5 cm tall for the biggest and 4" / 10 cm tall for the smallest when made with the indicated yarn. You can use a smaller or bigger hook to get a smaller or bigger applique.
Materials:
• 1 type of yarn calling for 5,5 mm (US I-9) hook in 3 different colors (and a very small amount of pink yarn for cheeks of the female)
• Size 4 mm crochet hook
• Size 3.5 mm crochet hook
• Tapestry needle
• 7.5 mm black safety eyes
⬇⬇⬇⬇
Abbreviations:
• chain (ch)
• single crochet (sc)
• double crochet (dc)
• half double crochet (hdc)
• increase (inc)
• decrease (dec)
• slip stitch (sl st)
• stitch marker
If you are creative you can create a beautiful pattern of Honeycomb Baby Blanket. To this blanket, like the image below, you will use the Hexi Blanket (Free Bee pattern)  pattern to create the blanket base and customize it with bee appliqués.
If you are a serious crocheter, consider selling your creations at craft fairs. If you are a beginner, consider attending a craft fair for your hobby. If you are looking for a way to sell your handmade crocheted products, you can start a craft fair. Craft fairs are a traditional place for selling crafts.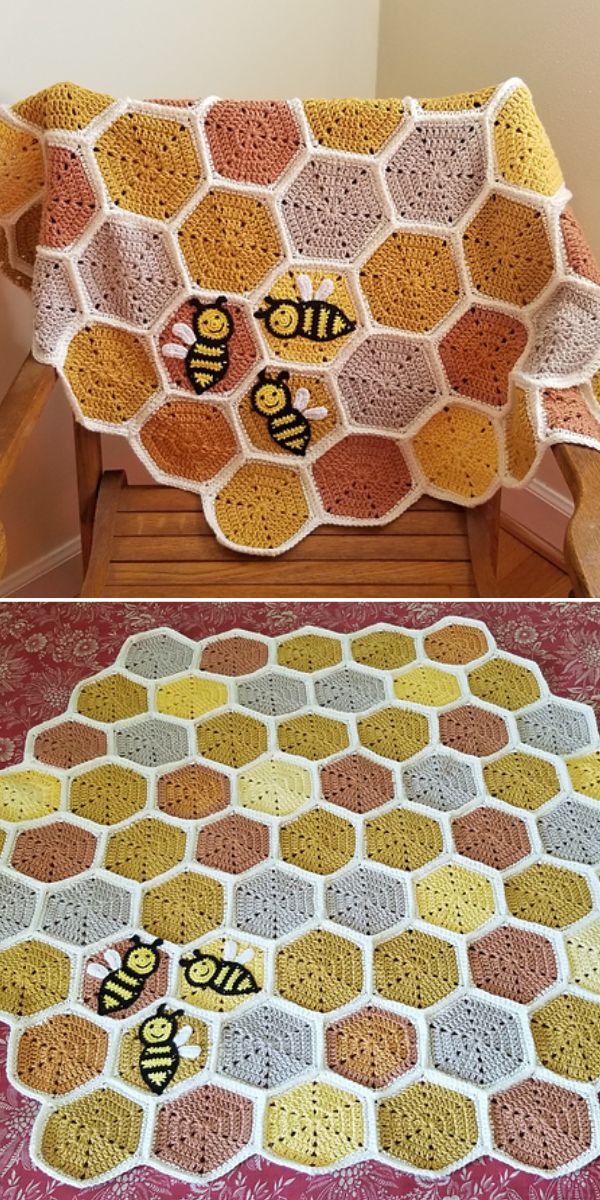 The image and content credits go to Natalina Craft.
Please tagg me in your photos on Facebook and post you final result on my group It's
SPAM FREE – JOIN THE FACEBOOK GROUP CLICK HERE
Join me and let's create an amazing community, sharing crochet and experiences and tips only.
Happy Crocheting!!
Check out more information on other patterns: