Do you want to learn how to crochet a Moana Costume for Disney haloween? Here you will learn how to do it step by step.
Hi there, here at Crochet fashion you will find great tutorials, and I have a perfect Crochet Moana Costume for Disney haloween Pattern for you today, it's a fast and easy tutorial.
After an early announcement, it's now official: Mickey's Not So Scary Disney Halloween Party will return in 2022! Magic Kingdom's classic Halloween party will take place on 37 select nights between August 12 and October 31, 2022.
We're using U.S. crochet terms in this tutorial and materials used for this project are:
Tape Measure
Monaco cotton thread (tube top) double pull
IndoPhil soft acrylic yarn (skirt)
3mm hook
Scissors
garter
Abreviations
Color#1 = Red
Color#2= Brown
st= Stitch
Dc= Double crochet
CH= Chain
sc= single crochet
hdc= half double crochet
tr= treble crochet
hdc= half double crochet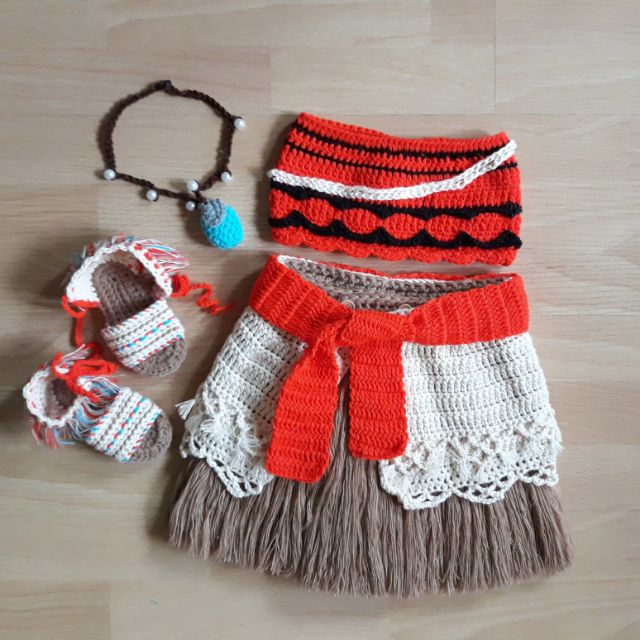 Note: Heads up this pattern is for one to three years old only so take note make sure to take the right measurements for your project.
Let's start make our foundation chains you have to chain 100 for the size of one year to three years old. I don't want you to be confused i am making a small version of this pattern you've finished your 100 chains make one double crochet into the fourth chain just continue doing one double crochet in each stitch.
100 chain with color red
1dc in 4th chain
1dc in each st (97 dc)
Row 2: on the last double crochet we will change to color#2, turn, 1sc in each stitch (97 sc) always securing the ends of the yarn whenever you change;
Row 3: change color#1, turn, 1dc in each st (97dc) " we will be making double crochets you can chain three and start double, crochet into the next stitch but this is how i make my first double crochet, I single crochet and then into the left loop i insert my hook and make single crochet, again and then continue doing double crochet into the next stitch when you reach the end of row 3 you don't need to change colors continue doing double crochets for row 4.
Row 4: color#1, dc in each st (97)
[activecampaign form=15 css=1]
Row 5: change to color#2,1sc in each st (97) always remember securing the ends of your yarn
Row 6 – Row 9: Color #1, 1dc in each st " will be making one dc in each stitch until we reach row 9)
Row 10: we will be making textiles, so change color#2and secure the ends of the yarn turn your work then make 1 sc into the first stitch next 1hdc, 2dc, 1tr, 2 dc, 1 hdc, 1 sc.
So that's the first, we will continue doing this pattern until we reach the end of the row if you are following the pattern you can make (1sc,1hdc, 2dc, 1tr, 2 dc, 1 hdc, 1 sc) repeat  9x in a row. Make sure to always start with single crochet and then end with single crochet, if your pattern ends with the half double crochet or a double crochet it doesn't matter as long as you follow the pattern.
Row 11: fill the gaps to straighten the row 1dc, 1hdc, 5sc, 1hdc, 1dc (1dc, 1hdc, 5sc, 1hdc, 1dc )* repeat9x.
So far have you liked the clear instructions? Then watch the full tutorial for you Disney haloween costume.
Please tagg me in your photos on Facebook and post you final result on my group It's
Join me and let's create an amazing community, sharing crochet and experiences and tips only.
Happy Crocheting!!
Check out more information on other patterns: