The 2023 crochet flower dress trend brings a lot of lightness, delicacy in mini floral prints, and the well-known ruffles. All this is added to very light fabrics, layered models, all to make women even more charming and elegant.
If you already know about the trends of floral prints, you know that it is in fashion and comes with a lot of delicacy, that's right, floral prints are minimalist leaving the perfect dresses for women who love beautiful and stylish pieces. It is worth remembering that fabrics with a dark background and small prints give the impression of reducing the silhouette, so it is perfect for fuller women.
BEAUTIFUL AND EASY MY LOVES, LET'S DO IT?
Shall we go to materials?
Crochet yarn of your preference, I indicate in off white color
1 ball in pink
crochet hook that gives gauge
To spice up the dress (brides, bridesmaids and party guests) use pearls to adorn the flowers.
Step by step:
Make the dress make the squares following the photo or the video on the channel (the channel has 2 videos every day and I always share it here on the blog when the video is up)
Detail of the square for the execution of the square step by step and union will be in the channel later.
The assembly must follow your bust, hip, waist and dress length measurements.
applying according to your need the correct amount of squares to form the circumferences and length as in the photo below
This is the back part with the detail of how to make the train of the dress.
[activecampaign form=17 css=1]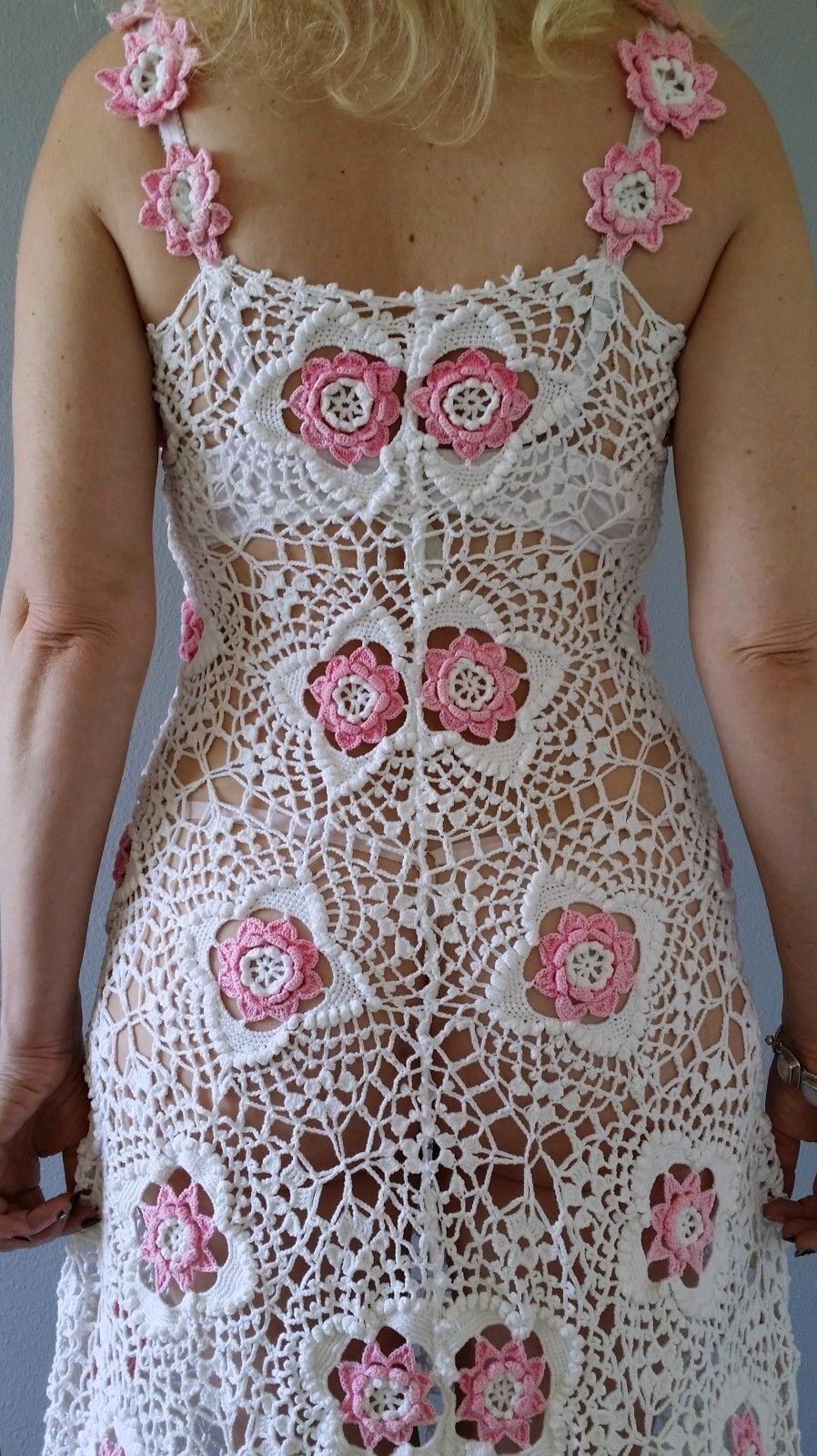 This is the best front photo i have of the crochet flower dress unfortunately the picture quality is not very good. But it is what we have.
Elegant dresses are indispensable, as the name implies, they provide elegance and are perfect for formal occasions, where more elegance is needed.
Please tagg me in your photos on Facebook and post you final result on my group It's
Join me and let's create an amazing community, sharing crochet and experiences and tips only.
Happy Crocheting!!
Check out more information on other patterns: